2022 BYXE Week kicks off this Saturday
IceBreaker Slow Roll – this Saturday, May 14 at 2pm
On May 14th 2022, please join us in The ICEBREAKER Slow Roll.
Unlike most of the slow rolls this summer, this first one will have muffins! However, we need you to tell us you are coming so we know how many muffins to have on hand.
This laid back, relaxing, ride is our way of saying "so long" to the winter season and "hello" to new friends and fellow cyclists. It's not a race, we won't be on any busy streets, and you hopefully won't have to bundle up!
It also happens to be on the cusp of #BYXE Week and will hopefully get you in the spirit to hop on your wheels and explore some of the city!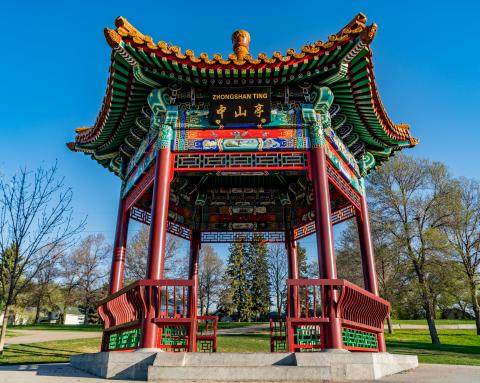 The ride will leave the Zhongshan Ting (pagoda) in Victoria Park at 2PM and travel exclusively along the Meewasin Valley Trail. It will be led by Saskatoon Cycles co-chair Kira Judge, and she promises to keep it slow, safe, and inviting for cyclists of all ages and abilities.
The roll will also feature a Ukrainian flag in front with Kira, and in solidarity with cyclists in Lviv, we're promoting a GoFundMe page here.
Come on out and help us break some ice!!
Remember – There will be muffins! Make sure to register for yours! 🙂
The official BYXE Week 2022 runs May 16 – 20
The City of Saskatoon and Saskatoon Cycles are partnering to present Spring 2022 BYXE Week from May 16 to 20. The week long event aims to promote and encourage cycling year-round and celebrate those who make cycling a part of their commute.
Cycling is a convenient and low-cost form of everyday transportation that improves our city by decreasing traffic congestion, noise, and air pollution. It's also great for our physical and mental health; regular exercise leaves us feeling refreshed, energized and alert. BYXE Week helps remind people how fun and beneficial getting on your bike can be, by packing the week full of adventure, fun, and community.
BYXE Week Social Media Contest
It's not all about the swag, but…
Riding a bike is a transportation choice that makes us and our community healthier, happier, and more accessible. If those reasons weren't enough, cycling during BYXE Week can also make you… swaggier?
That's right! We'll be drawing for prizes at the end of the week, so participate as much as you can with social media posts (Facebook, Instagram, and Twitter).
Just make sure that your posts have the hashtag #BYXE so we can find your posts for the prize draws.
Bike to Work Day is on Thursday, May 19, from 7 – 9AM
During BYXE Week, one day is selected as Bike to Work Day, when local businesses and organizations host commuter stations located throughout the city and distribute free breakfast, coffee, and other breakfast-type treats to people that arrive by bike. Some stations host games, trivia, have giveaways and general camaraderie, all of which are designed to give your trip to work an extra dose of fun and engagement.
Post a photo of you and your bike at any station with the hashtag #BYXE for an entry in the draw.
This year's Bike to Work Day is Thursday, May 19, from 7AM – 9AM. The locations for your pre-work stop will be on this map starting May 14.
Map of Commuter Station locations
Scavenger Hunt runs May 14 – 23
You and your family/ friends/ team can enjoy exploring the city by bike with our week-long scavenger hunt. Download the scavenger hunt card and get on your bike and check off as many items as you can.
With every successful discovery, post a picture of you (or you and your family/ friends/ team) with the card, hashtag it #BYXE (so we can find it for the prize draws) and we'll enter you into the draws.
Send in a picture of the Scavenger Hunt card by May 24 and you'll get yet ANOTHER entry into the prize draws.
Did we mention you could be getting 'swaggier'!?!
Decorated Bikes
We'll have these very pretty bikes scattered throughout the city during BYXE Week, and if you can get to them and post a photo of yourself and/or others with the hashtag #BYXE, we'll give you an entry for that too.
*Please note* we do NOT recommend trying to ride these exquisite pieces of art; they are designed for looks, not function!
The map with the locations of the decorated bikes will be on the BYXE page starting May 14.